The Third Annual NWV Habitat Build-a-Thon! Register now to change the life of a hardworking family today!
Anfim and Fatinia Snegirev currently live with their four children, Mariamia, Eugeni, Maxim, and Dimitri, in a house that shares a common wall with a barn. There is no ventilation in the house which leads to poor air quality and mold in their closets. The house sits on the ground with no proper foundation or insulation and there are several places where the floor has caved in. The house is heated by a wood stove which is not properly ventilated, allowing smoke to enter the home. Vermin, cats and ants come in through holes in the wall and get stuck in the ceiling.
Anfim has been on disability from a work-related injury for the past twelve years leaving him unable to work. Fatinia has worked over two years as a seamstress for Pacific Motion in Tualatin. As a result, the family must live on a very limited income and they are unable to access a conventional home loan. A Habitat for Humanity home would be the perfect fit to address Anfim and Fatinia's needs and allow them an affordable option for homeownership.
It is the hope of NWV Habitat that with the stable foundation a home affords, Anfim and Fatinia - and every partner family for that matter - will pull themselves out of the cycle of poverty that plagues low-income families and forge a better future for their children. With their Habitat home, Anfim and Fatinia Snegirev will finally have a stable, quality home they can afford.
A message from Roth Heating & Cooling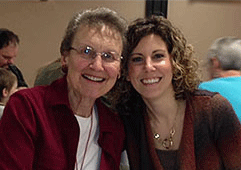 Everyone has causes they are passionate about. It may be the environment, soldiers, hunger or any other charitable work. People gain satisfaction from helping in an area they see a great need. Roth Heating & Cooling, through our 37+ years of working in homes in various communities throughout Oregon, have seen the need for safe, affordable and quality housing.
Our desire to help support the creation of housing for people who may not be able to do it on their own has led us to Habitat for Humanity. We believe in Habitat's vision of a world where everyone has a decent place to live. Habitat for Humanity was founded in 1976 (coincidentally Roth was founded the same year) so they have a long history of positive change.
Starting in 2006, we began to donate to Habitat in honor of our customers. Since that time, we have been able to support Habitat with over $28,000 in donations.
We have been blessed watching this money at work in our own community. In 2008, we were able to send six Roth employees to the Portland Habitat for Humanity Home Builder Blitz. Most recently, we were invited to sponsor the HopeBuilder Breakfast in Canby where we met one family touched by Habitat.
Becky Slate talked about the joy she felt when she was informed her family would get a house. She also shared how working on her home filled her with great pride. Her story brought tears to many people in the room, including us. When meeting a family like the Slates who are so grateful to have a new home, we can see how our money makes a difference.
Habitat does more than just provide housing to people in need. They ask for hundreds of hours of labor toward building the home from the family that will receive it as well as mortgage payments based on the family's income. This time commitment creates a sense of pride and ownership. We strongly support a hand up, not a hand out.
We plan to continue our commitment to Habitat for Humanity to help further their cause. If you are looking for a worthy charity to support, take time to look into Habitat for Humanity. You will not be sorry when you learn more of the good they do. If you are interested, you can also check out our website
here
for pictures of our installers at the 2008 build and pictures from the HopeBuilder Breakfast.
These are just a couple of the many hardworking families and sponsors who are touched by Habitat for Humanity. It only takes a little bit of your time to change these families' lives forever.